Mul-heobuk
"Mul" is a water in Korean and heobuk is a jar in Jeju dialect . It is a big jar for putting water with a capacity of 20 L. Jeju women used it to carry water from well to their home. Its upper part is narrow to prevent water overflowing the brim and also, it comes in various size for use.
Mul-gudeok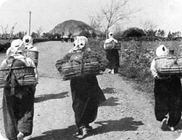 "Gudeok" is a basket made of bamboo. It is a bamboo basket for carrying water. It was used to put "Mul-heobuk" and Jeju women carried it on their shoulders. That's because it is windy in Jeju so that they couldn't set a "mul-heobuk" on the head.
Mul-pang
It is a structure to put down "Mul-heobuk". It was made of 2 stones erected with wide and flat stone between these.
Mul-hang
It is a jar for stroing drinking water at home that Jeju's women carried with Mul-heobuk from wells. It is so airy that the water in the jar does not stagnate and it has a capacity of 180~200 L.
Chom-hang
It is a jar to collect rainwater from trees. People living in mid-mountanious area especially had difficulty obtaining water and it led for the people to depend on rainwater more than other area.
Wu-jang
It is a raincoat made of cogongrass and it existed only in Jeju. It reflects Jeju's environment that has rained a lot.